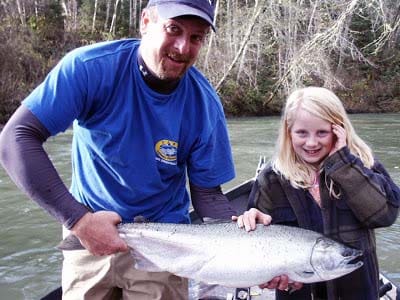 Sunday November 16th was one of those extraordinary days where the weather, the friends, and the adventure came together to make a day of delight and wonder. Brad and Kelsey invited me to fish from their drift boat. We left their place around 6am and explored several options for the best waters. Picking a drift boat launch that in no way resembled (to me) a place to put a boat in the water – think steep slope, tress and shrubs and barely a place to pull off along side of the road – and the next thing I know, Brad says, "Push" and there goes the boat, crashing down down down toward the water. Right up till it decided to turn right, into the trees.
The slope was such that I navigated to the stopping point by way of my bum in on the wet leaves a few times, but remarkably, everything was still tucked neatly inside, there was no damage, and a few heaves and hos and poof – the boat was in the water.
Shuttle the rig to the take out point, and we were fishing.
Brad had obviously taught Kelsey well, as once we reached the first hole, with little instruction, she let out line to the appropriate distance and before Brad could say OK, let the next pole out – ziiiiing – the first fish was on!
I might have the count wrong, but I think we brought in 6 of the 8 or 9 we had on. All gorgeous, all wild Coho – happily back in their river.