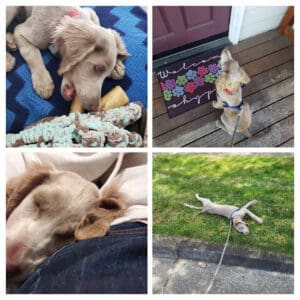 Miss Franny came home March 25th, born a week after Izzy's passing. I knew I was getting another pup eventually, but not finding the right rescue, I opted for a puppy which means an exhausting period of hard work, consistency, sometimes frustration and moments of pure joy.
Many of you know an Izzy story, or 10: she lived large, had crazy adventures and though she didn't warm up to everyone (I could never get her fully passed whatever caused her issues from an early age) she was super smart, loyal and provided a lot of people entertainment – even many she never met, even from afar.
Franny lives in a house filled with Izzy – her photos, paintings, hand me down beds and toys, and the memories from 10 years of stories and escapades. This pup is so different – already it is clear she defaults to liking people and animals she meets. She is silly and loving, playful and sassy – and I am so glad she is a longhair so she looks just enough different that I am reminded to let her be herself and not expect her to be "another Izzy."
These next 10-15 years are Franny's now. New adventures – hopefully no really scary ones that involve being lost for days in another state or finding her way onto the tarmac at the airport – await us together and I feel confident that unforgettable Ms Isabella Rosalini Tyler would completely approve.